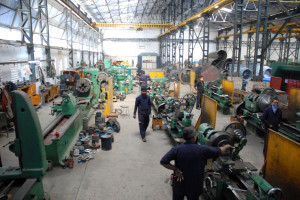 Infrastructure :
Design & Engineering Facilities :
We have full fledged design & engineering office working on  Autocad (Inventor & mechanical) platforms
Sales & Marketing :
We have full fledged sales & marketing team that covers the entire India and have associates abroad.
Human Resources :
We have over 60 Skilled Employees working in various departments covering Manufacturing, Engineering, Sales & Marketing, Quality control and after Sales Services.
Manufacturing Facilities :
Manufacturing of Air Pollution Control equipments and systems including industrial Fans is carried out at our works located at Plot No:910, GIDC, 3rd Phase, Umbergaon, Dist: Valsad, Gujarat State. We have adequate space and facilities to do big jobs.
Equipped With :• CNC Plasma cutting machine.• Laser Cutting.• Boring machine• Radial Drilling Machine.

• Shearing machines

• Plate & Flange Rolling Machine.

• Nibbling Machine.

• 2 ton Dynamic Balancing Machine.

• Heavy Duty Lathe.

• Medium Duty Lathes.

• MIG/MAG Welding Machines – 15 Nos.

• 1.5Ton 8metre span Single girder EOT crane

• D.G set 200KVA.